"YOUR BODY IS YOUR FIRST HOME
BREATHING IN, I ARRIVE IN MY BODY
BREATHING OUT, I AM HOME "
Thick Nhat Hanh
Relax...Recharge…Restore…Rebalance
Welcome
Thank you for visiting Fran Wollen Reflexology. Professional reflexology treatments carried out by a fully qualified and insured reflexologist in Bournemouth, Dorset, within easy reach of Poole.

As a full member of the Association of Reflexologists (AoR) I am committed to developing my skills and knowledge and I abide by their code of practice.

I am on the Complimentary & Natural Healthcare Council (CNHC) register and I uphold high standards of practice.




*PLEASE NOTE THAT I AM CURRENTLY ONLY TAKING ON FEMALE CLIENTS
Ready to try something new?

If you haven't already experienced the benefits of reflexology, then why not make time to try this gentle, complementary, holistic therapy?
As we know, it is not always possible to completely change a situation that is causing us stress, tension or anxiety but there are many ways to support ourselves and to help us feel more resourceful and cope more effectively during these times. This can reduce the effects of long or short term stress by helping to calm the nervous system down, increase feelings of wellbeing, aid deep relaxation, improve sleep quality, and help activate the body's own healing mechanism.

If you are looking for a reflexologist or perhaps want to explore whether reflexology could be beneficial for you then please get in touch. I offer reflexology from my treatment room behind the Upper Gardens area of Bournemouth so I am well located for Westbourne and Poole. I also provide off-road parking.

Reflexology should not be used as an alternative to seeking medical advice.

Why not take some time out to thank your feet and body for all the hard work they do…the average person in the UK will take around 216,262,500 steps in their lifetime!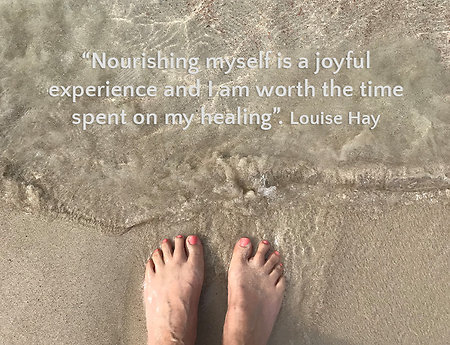 "I had a treatment by Fran at her beautiful reflexology studio. She is a very professional practitioner. She takes a full medical history and is mindful of your emotional wellbeing also. Her studio is very well appointed and spotlessly clean. It feels so calm and relaxing, I hardly wanted to leave after my treatment. I would recommend Fran with hesitation."
BD, Poole

"I highly recommend reflexology with Fran. I work a stressful job and often arrive to appointments in a hurry, but she has been able to quickly put me at ease. She is caring, professional, respectful and peaceful to be around. Her therapy room is a beautiful environment to be in and each session leaves me feeling, frankly, freakin' awesome (both in body and mind). I feel so relaxed that I never want the sessions to end." :)
SH, Poole

Reflexologist in Bournemouth 5/5
"My first appointment at Fran Wollen Reflexology in Bournemouth saw me arrive twitched and full of lists in my head. By the time I left after the treatment, I was calm, felt re-centred and ready for my week. My reflexology was timely, with huge attention to detail in the environment of the treatment room and had the right balance of relaxation and intentional care. The room was immaculate. My care included filtered water, bespoke essential oil products and simple, clear dialogue with Fran. Personally I have already had a shift in my well-being and I have now booked a course of reflexology treatments and the same for a friend."
EH, Poole

"I'd never experienced reflexology before but had always wanted to try it. A friend recommended Francesca.
I've had a couple of treatments so far and I find it works for me in a way that makes me feel relaxed as well as more vibrant.
From the start, Francesca made me feel calm and at ease. The treatment room itself is quiet and very comfortable with soft music in the background making the experience even more beneficial. Francesca was kind and very professional, she explained what she was doing and how reflexology points relate to the body. I found her to be very reassuring. My sessions have been very helpful, I'm sleeping better and my general wellbeing has improved a lot and I'm looking forward to my next few sessions. Thanks, Francesca for making my introduction to reflexology a good one!"
LC, Bournemouth